Slide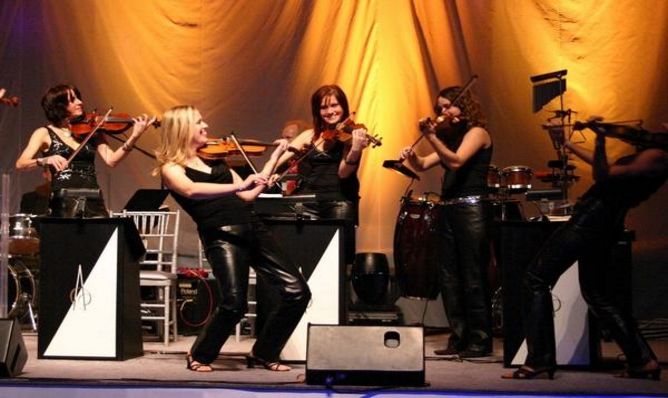 Ranging in size from 6 to 10 pieces, Ken Arlen's Sirens, Chicago's exclusive rock violin show, is led by Arlen Music's own Rebecca Richey on violin, backed by some of the best instrumentalists that Arlen has to offer (keyboard, bass, guitar and drums). Perfect for parties of any size, the Sirens can provide a fully choreographed 30-40 minute featured performance guaranteed to dazzle your guests. In addition, this ensemble can provide an entire evening's worth of entertainment: background music for dinner; strolling string players; even add vocalists for dance music later in the evening! Earning standing ovations and unanimous praise from audiences, Ken Arlen's Sirens is a one-of-a-kind item that has quickly become the talk of the town.
Drug Information Association Board of Directors Reception (Marriott Marquis) – June 21, 2022
The music group was stupendous! The guests loved it. Thank you so much for making our evening extra special.
Isabel M. Milán, Manager, CEO and Board Operations
National Foundation of Ectodermal Dysplasias Fundraiser
The Sirens performance was fun, sexy and the guests LOVED them! I can't wait to use the them again soon!
Monica Cebula, Chicago Travel Consultants
Ana Carla Dourado / Hunter Kreft Wedding
Thank you for your work on Ana & Hunter's wedding! The guests LOVED everything – especially the dinner performance with the wardrobe change – thanks for making that happen so well!
Leanne Valdes, Event Planner
Deloitte Corporate Event
The Sirens Lite Musicians at the Wit Roof on Monday night were super. They provided exactly the kind of music we hoped for and contributed to the success of our event. I appreciated the variety of music they played, some with a classic feel, some pop, and some soft rock. Rebecca and the gang were great to work with and I'd engage them again for future events without any hesitation.
Larry Olson, Conference and Event Producer, Deloitte Services LP